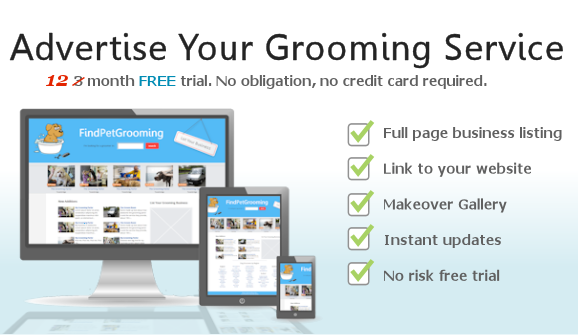 Sign Up Today - FREE
To celebrate our launch we are giving the first 250 groomers to sign up one years FREE listing!
Register now there are -1001 FREE accounts left.

Full-page Advert
Your business will have its own dedicated page you can link to directly containing all your information and a map of your location.

Website & Social Links
Link to your website, email and social media accounts (twitter/facebook) at no extra cost.

Instant Updates
Edit your details via our admin area and your advert will be instantly updated to reflect any changes you make.

No Commission
We don't take commission for bookings. All you'll pay is a flat fee of £25 per year, however many new customers make bookings.

No-risk Free Trial
Our 90 day free trial lets you try out all the benefits of advertising with us without spending a penny.

Makeover Gallery
Showcase your work by uploading before and after photos of the pets you groom.